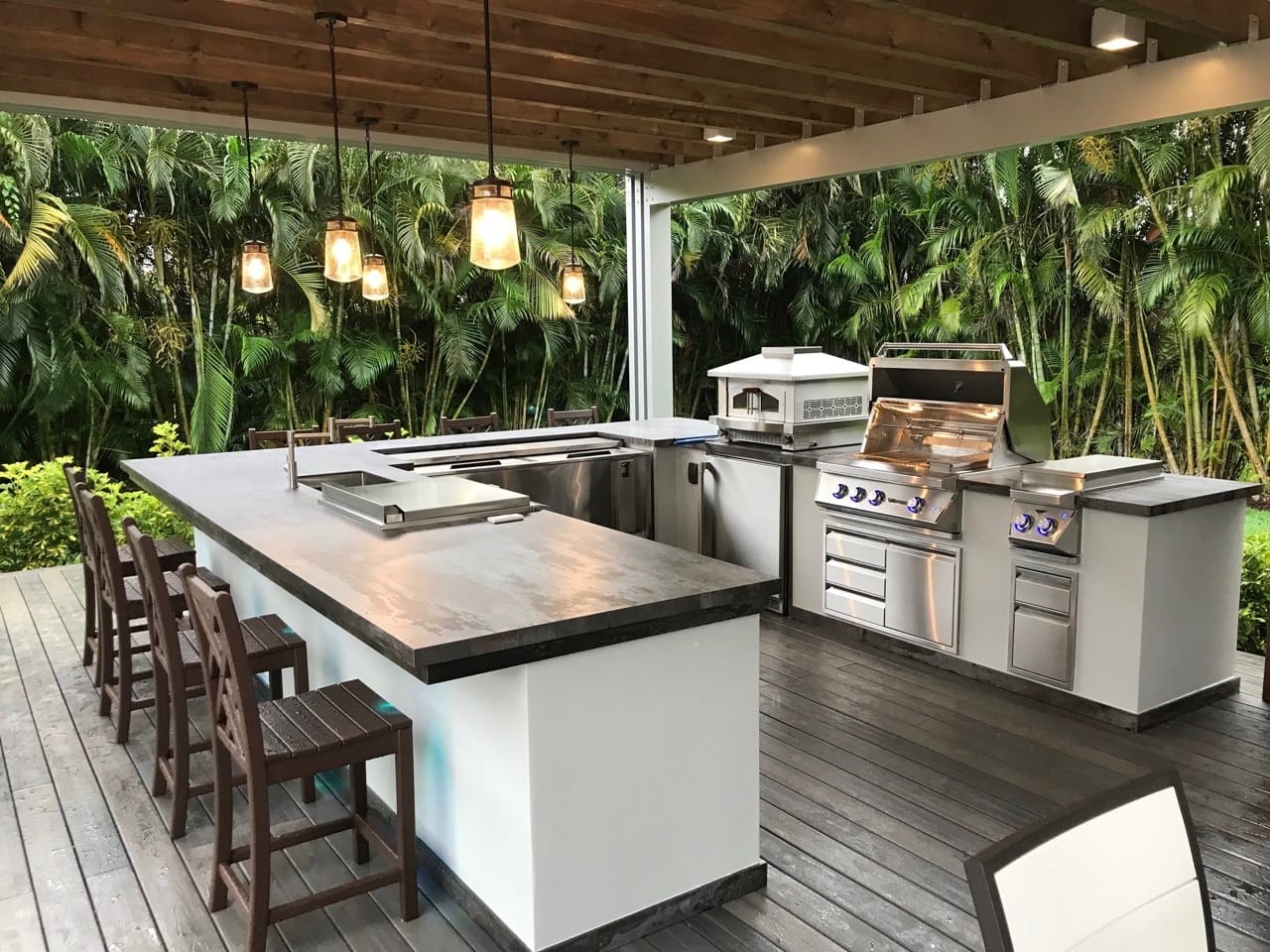 When it comes to cooking, anything you can do indoors can be done outdoors—and a meal made in the great outdoors is sometimes even better. There's something about the aromas and flavors of grilled cuisine that has made barbecuing a significant part of home life.
Barbecuing has come a long way since the early charcoal grills and hibachis used during the postwar years of patio culture. Now outdoor cooking centers feature higher-tech appliances and more sophisticated components that help to create an easy and potentially luxurious outdoor lifestyle.
Before launching into a project, think about the following design tips and considerations that will help you cook up the ideal outdoor kitchen suited for you and your needs.
Research Outdoor Kitchen Types
Determining the best type of outdoor cooking center will depend on your budget, lifestyle, and space, among other factors. At its most basic, an outdoor kitchen can include a grill and maybe a store-bought outdoor bar that serves as a counter. As for more extravagant set-ups, the sky's the limit! Like anything, you can get as elaborate and spend as much money as you desire.
Decide if you want a fully functional kitchen or something more simple. From there, you can determine what is essential and what's an amenity, and if your budget and taste have room for the extras. Keep in mind that it's outdoors—nature shouldn't be overly complicated.
Assess the Available Space
If you live on a sprawling lot with lots of acreage, then your challenge might be making sure you don't have to walk too far from the house to the outdoor kitchen to fire up the grill. Most properties are smaller, presenting fewer choices for the location of a grill and outdoor kitchen area.
Consider Whether You Want a Permanent or a Portable Outdoor Kitchen
If you rent or plan to move in the next few years, it might be a good idea to equip your outdoor kitchen with appliances and features that can move with you.
If you don't see yourself going anywhere or simply love the DIY thing, then an outdoor kitchen might be a satisfying project for you to design and build. Determine a convenient and safe location, use materials that coordinate with your home's exterior and are locally available, and find plans and blueprints online or in books.
Set a Budget
Make a budget and work within it. Essentials such as materials, appliances, and labor can easily get out of hand and end up costing more than anticipated. Additional costs include enlisting the services of a designer, obtaining permits, tools, and professional help for add-ons such as electrical and plumbing.
Understand Your Preferred Cooking Styles
Determine your favorite style and method of outdoor cooking: Do you love grilled fish or a hamburger cooked over a charcoal barbecue? What about pizza cooked in an outdoor brick oven? Tandoor or a smoker?
An outdoor kitchen can include anything from a gas, propane, electric, or charcoal grill to various ovens and stoves. Do you prefer to prepare food outside—such as fish—or are you okay with prepping indoors and bringing it outside to cook? Do you need a sink outside?
While designing, think about the maximum number of people you'll be cooking for. Plan several of your favorite outdoor meals and make sure that the outdoor kitchen you have in mind can handle the prep and actual cooking, while also accommodating guests. From there, make adjustments.
Consider Climate and Environment
If you live in the western United States, Florida, or a region with a mild climate, you'll be spending more time in that outdoor kitchen (maybe even more than you do in the indoor counterpart). If this is the case and you find yourself pretty much living outdoors, a larger outdoor kitchen might be justified.
For other areas that experience more extremes in weather, location within your yard is important. Pay attention to microclimates. You want to avoid spots that are windy, too hot, too shady, or cold. If you live in a region that gets lots of rain, consider locating your grill or kitchen under a cover or partial patio roof.
Commit to Proper Maintenance
An outdoor kitchen is exposed to the elements. Even if you don't use it often, appliances and surfaces will need to be covered and maintained because they are outdoors. Think about the time and effort it will require to keep up a kitchen you build or install. Will you have help, or are you going to be the lone chef and cleaner? Make it easier on yourself: Sometimes simpler is better.
Select Materials for an Outdoor Kitchen
If the kitchen will be permanent, look to materials used on the exterior of your home, such as brick, concrete, or stucco, along with details made of metal or tile. These look attractive and create continuity when used on an outdoor structure, such as a kitchen.
Besides looks, budget, availability, and labor, the size and scope of your outdoor kitchen will influence your choice of materials, too.